The real world blows my mind in ways that fiction simply doesn't, take Vietnam's extraordinary Son Doong (Mountain River Cave), the word's largest cave, as an example. Located near the Vietnam – Laos border in Phong Nha-Ke Bang National Park, Son Doong features a massive fast-flowing river complete with awe-inducing beaches, fauna and flora, as well as a unique climate.
It was first spotted by a local man, Ho Khanh, in 1991, but because the cave is hard to get to and a bit intimidating due to the sound of roaring water coming from its belly, he never bothered going in. It wasn't until 2009 that a bunch of curious explorers from the British Cave Research Association, led by Howard and Deb Limbert, decided to venture deep within.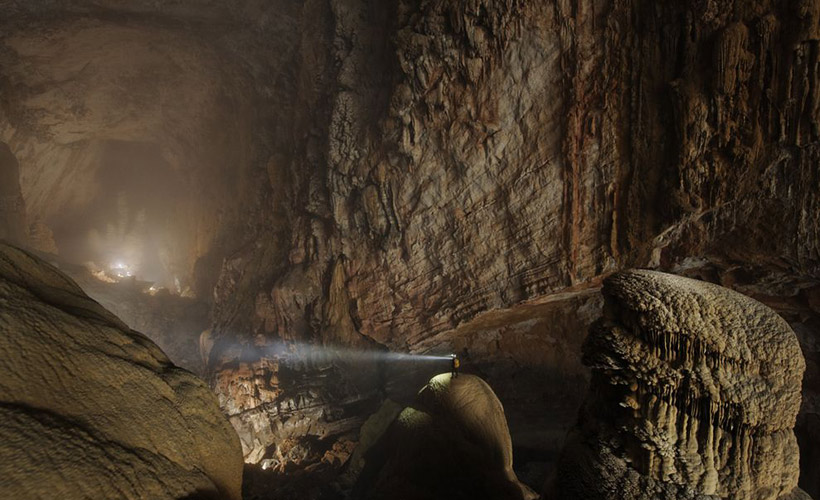 According to The Telegraph, "The entrance is quite small and mist from the cave, caused by the cooler air inside meeting the hot air outside, rises into the surrounding forest. Visitors must descend 90 meters down a steep wall with the use of harnesses and ropes. This huge temperature difference also creates moving clouds of mist, especially near the two karst windows, which gives the cave its magically surreal atmosphere."
The biggest chamber within the cave is about 5 kilometers long, (3.107 miles), 200 meters high (660 feet), and 150 meters wide (490 feet). It is home to some of the world's tallest stalagmites that can grow up to be a towering 70 meters (229.7 feet) and it contains basketball sized cave pearls, which are considered abnormally large by everyone who know anything about cave pearls. I do not.
The cave was created somewhere between 2-5 million years ago thanks to water eroding the limestone underneath a mountain, so, it's been there for a while. Eventually, the ceiling collapsed over the eroded rock creating stunning skylights that give the cave its rather unique characteristics, like it's very own jungle.
Son Doong seems like something straight out of a Jules Verne novel; it tickles and triggers the imagination and opens us up to the possibility of adventure and the unknown. When we live the way that we do, it's hard to imagine that there is anything left undiscovered. And yet, to my surprise, we are still finding hidden gems of unparalleled beauty tucked away right under our noses.
There's something infinitely comforting in knowing that its still possible to stumble upon something incredible, like Vietnam's extraordinary Son Doong, the world's largest cave.
Originally posted: Vietnam's Extraordinary Son Doong: The Word's Largest Cave
Comments
comments