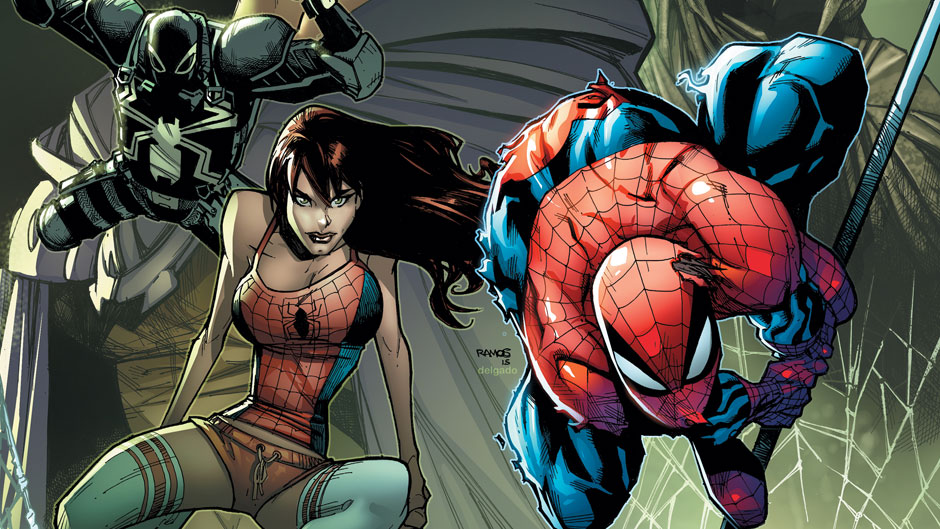 In Spider-Island, the whole of Manhattan nearly found itself turned into rampaging humanoid spider monsters, but Spider-Man saved the day and the populace once again. In the Secret Wars versions of SPIDER-ISLAND, brought to you by writer Christos Gage and artist Paco Diaz, however, the Big Apple did not fare so well.
"The Spider-Queen won," Gage says. "New Yorkers are all her 'children,' man-sized mutated spider-people, loyal to their Queen. The heroes lost. Peter Parker, Spider-Man, is missing and presumed dead. It's truly Spider-Island."
Hope remains for this most devastated of Warzones!, in the form of Flash Thompson, Agent Venom, but previous events have left him riddled with insecurity.
"[Flash] carries a great burden here," Gage expounds. "Due to his symbiote's vulnerability to the Spider-Queen's sonic powers, he failed to save his hero, Spider-Man or New York. Now he drives himself mercilessly to find redemption, by any means necessary."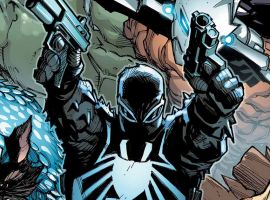 That includes reaching out to surprising allies to, essentially, fight monsters with monsters.
"It's too late for a cure, that's off the table," divulges Gage. "But a further change can give them their freedom back, which is how Capwolf, Lizard-Hulk and others come into the story!"
Artist Paco Diaz helps to capture the horror of the Island, Venom's tortured persona, and his unlikely partners, inspiring Gage to make the script as dynamic as possible.
"His art has a tremendous sense of power and motion, and I want to play toward that in the action of this book," he asserts. "I loved what he did on SCARLET SPIDERS."
The book also features a Spider-Girl back-up feature by writer Tom DeFalco and original artistic collaborators Ron Frenz and Sal Buscema that takes place on an MC2 world that will probably seems very familiar to long-time fans.
"While there are a few interesting twists in Battleworld, a longtime fan of MC2 will hardly notice them," DeFalco reveals.
That said, do not expect the protagonist to have remained static, according to DeFalco: "There are significant differences in Spider-Girl, thanks to the recent events in Spider-Verse."
Fans should also not assume a smaller page count means a less involving tale. The creative team plans to deliver the goods, as they always have.
"Readers should be confident that they will get a complete story—with a beginning, middle and end—with plenty of angst and action that will tell them everything they need to know to fully enjoy it," DeFalco pledges. "Established fans will want to come back and see some old friends and enjoy our usual hoo-ha shenanigans. New fans might want to see why MC2 fans are so loyal and keep demanding our return. A good roller coaster ride is promised for all!"
Originally posted: Secret Wars Correspondence: Spider-Island
Comments
comments